There are some reasonably uninspiring games on the NFL's Wild Card Weekend for 2023. Three of the six games feature teams in the same division playing for the third time this year, with the San Francisco 49ers hosting the Seattle Seahawks, the Buffalo Bills welcoming the Miami Dolphins, and the Cincinnati Bengals and Baltimore Ravens facing off for the second consecutive weekend.
In Jacksonville, however, we have a much fresher (and more exciting) matchup as Trevor Lawrence makes his playoff debut with the Jacksonville Jaguars against another of the hot new quarterbacks in the league in Justin Herbert, and the Los Angeles Chargers. This isn't just about a battle between the two quarterbacks with the best hair in the league but also one that will set a clear marker down as to which of the passers is the one to beat in future meetings between two franchises on the rise.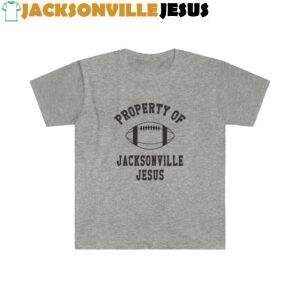 Buy Your Unique Jacksonville Jesus Merch Here!!
Lawrence Vs. Herbert
At 23 years old, Lawrence is one year younger than Herbert. Lawrence was the No. 1 pick of the Jags in the 2021 NFL Draft out of Clemson, while Herbert was taken No. 6 overall by the Chargers out of Oregon one year prior. The league is littered with young quarterbacks with the potential to be great. The likes of Joe Burrow, Josh Allen, and Patrick Mahomes have done it in the playoffs already, and now it is the turn of either Lawrence or Herbert to add a playoff win to their young resumes.
Jacksonville gets this game at home. That means those looking for cheap Jacksonville Jaguars tickets can see this battle of future NFL stars live and in person. The NFL considers this as one of the best games in the Wild Card Round, with it being given the primetime slot on Saturday night. It is the Jag's first trip to the postseason since 2017, which looked out of the realm of possibility in the middle of the season when the Tennessee Titans held a commanding lead in the AFC South.
It is that spirit within the camp that is going to make Jacksonville a tough out in the playoffs. They have won six of their last seven games – including beating the Titans twice – with wins over a pair of playoff teams in the Ravens and the Cowboys as part of that streak. Head coach Doug Pederson has seen and done this before – he won the 2017 Super Bowl with the Philadelphia Eagles and is the type of coach that can shape his young roster into a playoff run.
No one will want to face the Jaguars in the playoffs this year or for as long as Jacksonville Jesus has the wheel.